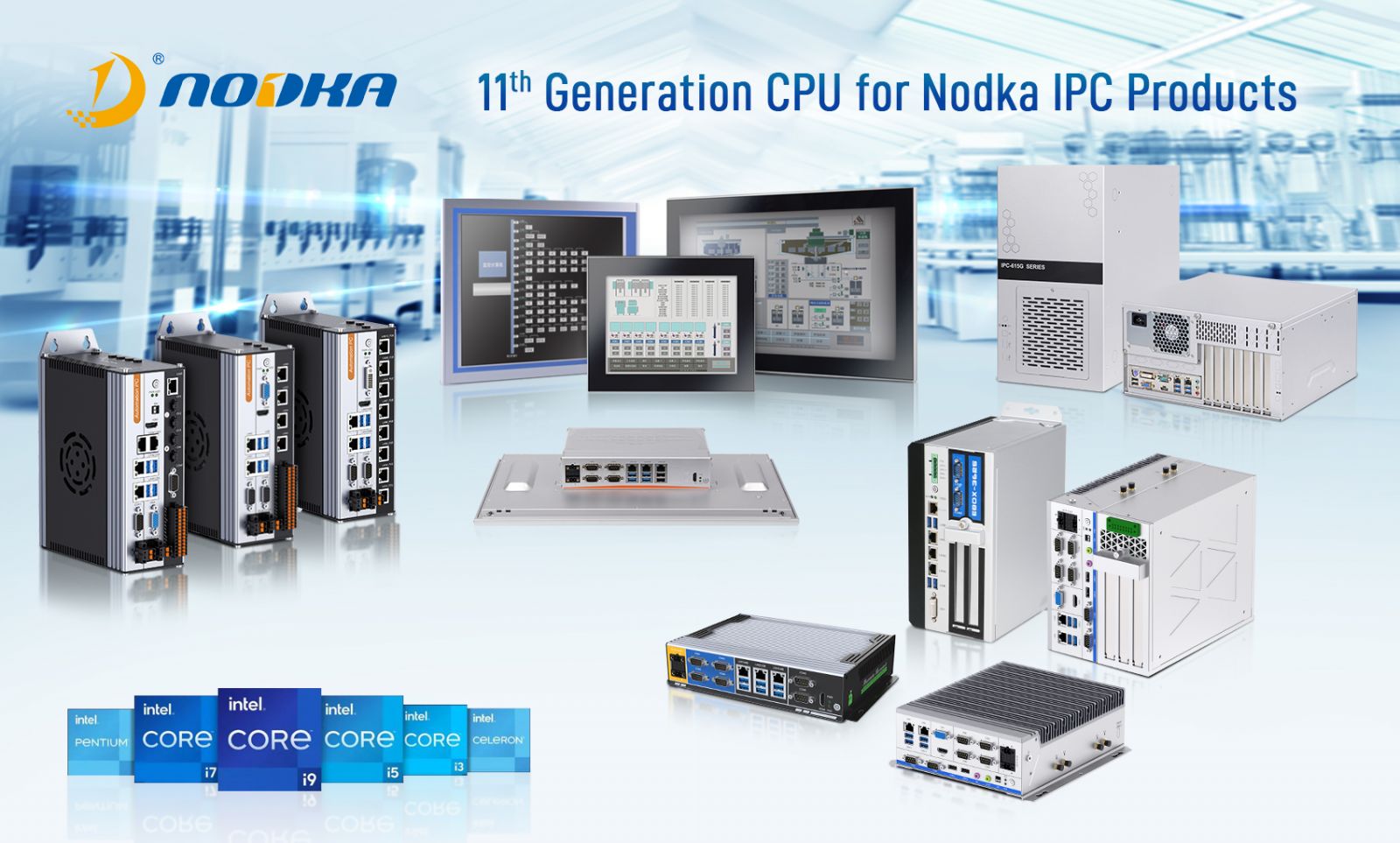 To stay ahead of the peer competitors, Nodka recently release a wide range of IPC prosucts with Intel® 11th-Gen Core™ platform for Industrial Panel PC XXX4 series. The IP65 waterproof and dust proof, modular capabilities to satisfy various vertical market applications ranging from factory automation, robotics, transportation, chemical, and machine vision industry. Other IPC products equipped with 11th-Gen CPU are Box PC and Automation PC.
Highlights for Nodka 11th-Gen CPU IPC products
Improved performance, faster processing speeds and improved multi-threading. This can improve the speed and efficiency of computing tasks, allowing for faster processing of data and improved overall system performance.
Enhanced security: such as hardware-based threat detection and mitigation, which can help protect industrial panel PCs from cyber threats and other security risks.

Improved power efficiency: reduce power consumption and heat generation in industrial environments. This can help improve the reliability and longevity of industrial panel PCs.

Support for advanced technologies, including high-speed connectivity options such as Thunderbolt 4 and Wi-Fi 6. This can improve the versatility and connectivity of industrial panel PCs, allowing them to be used in a wider range of applications.
Industrial Panel PC XXX4 series equipped with 11th gen CPU, used for both capacitive and resistive touch screens. Size options: 10.4", 12.1", 15", 17", 18.5", 19", and 21.5"

Industrial Box PC products also has 11th-Gen CPU. High-performance Compact Fanless Computer for Factory Automation
Integrated remote transmission sender module, up to 100 meters between PC to display/HMI

3x Intel i211 Gbe LAN controller

4x USB3.0, 2x RS-232/485

Option 1 x PCIe x16 slot or 1 x PCI slot

I/O: DVI-D/3GLAN/4USB/e-LINK sender Port/2x RS-232/485/PCIe x16+1 PCI
eBOX-3250| Fanless Box PC Intel® 11th-Gen Core™ Fanless Industrial Computer

3 x Intel GbE LAN

6 x USB3.0, 2 x USB2.0, 4 x RS232/RS485

2 CAN buses, optional expansion of 2 RS232 or 485

1 x MiniPCIe expansion slot for 4G/wifi

1 x mSATA,1 x M.2 NVME SSD (Specifications 2280)

8 x DI photoelectric isolation wet contact, isolation class 2500Vrms

8 x DO, OC gate output, isolation class 2000Vrms
2×Realtek GbE LAN

4×USB3.0, 2×USB2.0, 1×USB2.0 dongle built in

2×RS232/RS485,4×RS232

Supports HDM and VGA display ports

2×miniPCle expansion slot for 3G/4G modules

1×2.5 "SATA,1×M.2 disk interface, supports SATA disks
eBOX-3670-P/E| Box PC Intel® 11th-Gen Core™ with Fan

2×Realtek GbE LAN

4×USB3.0, 2×USB2.0, 1×USB2.0 dongle built in

2×RS232/RS485,4×RS232

1×PCIE X16+2×PCIE X1 or PCIE X16+2×PCI are optional

Supports HDM and VGA display ports

2×miniPCle expansion slot for 3G/4G modules

1×2.5 "SATA,1×M.2 disk interface, supports SATA disks

DC12-24V input, with overcurrent, overvoltage and anti-reverse connection protection
---
Latest Automation PC - NP Series are updated with 11th CPU. NP-6132, NP-6133, NP-6135, NP-7135, all with different I/O extensions
2 x Intel GbE LAN controller

4 x USB3.0, USB2.0 Type A on board for dongle

2 x RS232/RS485, RS485 support auto flow control

Support DVI-D and HDMI display port

1 x miniPCIE expansion slot, Support Wifi,3G/4G modules

DC12~24V Power supply with overcurrent, overvoltage and polarity inverse protection

Support wall-mounted or DIN-Rail fixing style
4 x Intel GbE LAN controller

4 x USB3.0, USB2.0 Type A on board for dongle

1 x RS232/RS485, RS485 support auto flow control

Support VGA and HDMI display port

2 x miniPCIE expansion slot,Support Wifi,3G/4G modules

DC12~24V Power supply with overcurrent, overvoltage and polarity inverse protection

Support wall-mounted or DIN-Rail fixing style
2 x Intel GbE LAN controller

4 x USB3.0, USB2.0 Type A on board for dongle

2 x RS232/RS485, RS485 support auto flow control

Support both VGA and HDMI display port

1 x miniPCIE expansion slot,Support Wifi,3G/4G modules

DC12~24V Power supply with overcurrent, overvoltage and polarity inverse protection

Support wall-mounted or DIN-Rail fixing style
NP-7135

|

Automation PC with Intel® Core™ 10th/11th gen processors

2 x Intel GbE LAN controller

4 x Intel GbE PoE LAN controller

4 x USB3.0, USB2.0 Type A on board for dongle

2 x RS232/RS485, RS485 support auto flow control

VGA, DP and HDMI displays ports, support dual display

1 x miniPCIE expansion slot,Support Wifi,3G/4G modules

4 x PWM Light power control with external trigger input

16 x isolated DIO(8 x DI, 8 x DO)

DC12~24V Power supply with overcurrent, overvoltage and polarity inverse protection